UT Physicians has received a prestigious 2022 President's Volunteer Service Award (bronze level) from the Houston Food Bank.
The award, presented on May 30 by Houston Food Bank President and Chief Executive Officer Brian Greene, recognized UT Physicians for service that positively impacted our community.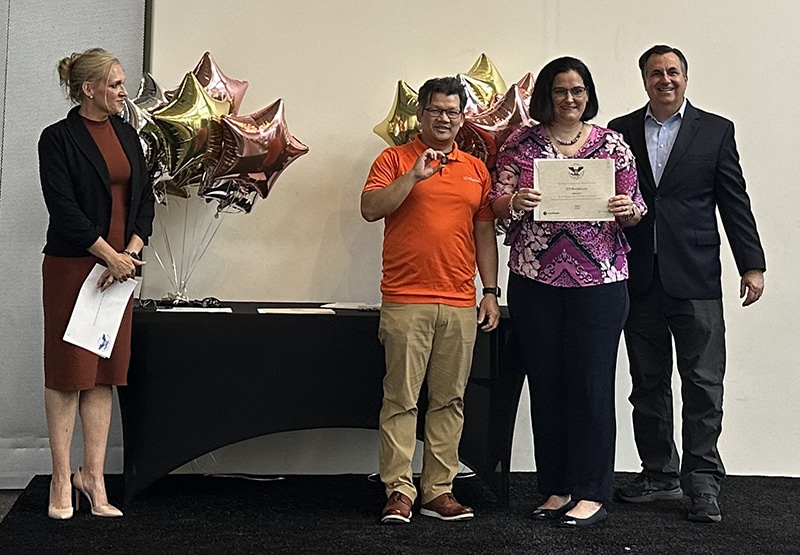 Food insecurity is associated with increased risk for multiple chronic conditions. It is a mission of the practice plan to help our patients be proactive with their health but also address any limited access they may have to nutritious food.
This specific award was related to volunteer service hours provided by the UT Physicians Marketing and Communications and Patient Experience departments.
The departments jointly volunteered most recently during the Thanksgiving season last November.
"Volunteering at the Food Bank was a rewarding experience, knowing that our efforts are making a difference in a child's life," said Sharon Messimer, MLA, director of patient experience. "There is so much we take for granted, like food, that others do not have. Working as a team with another department helps build the culture to remind ourselves that helping others goes beyond our daily work."
Judith Coulter, senior marketing coordinator, shared how volunteering provided such a sense of community by working with other groups.
"We were packaging food that would have an immediate impact in our region," said Coulter. "The leaders at the Houston Food Bank made it a fun and collaborative experience, and I look forward to volunteering more time there."
Volunteering gave Kim Kham, manager of marketing and communications, first-hand experience on how the food bank organizes and distributes food to communities in need.
"It also showed me how large-scale the operation is and how every person is vital in helping to support the mission of fighting hunger," Kham said.
The President's Council on Service and Civic Participation founded the awards in 2003 under President George W. Bush's administration. Every presidential administration that followed has continued the recognition to honor volunteers.
Along with a certificate, UT Physicians received a pin and a signed letter from President Joe Biden. Words from the White House echo the importance of volunteering in the community.
"The American story depends not on any one of us, not on some of us, but on all of us," said Biden.