UT Physicians Colon & Rectal Clinic – Texas Medical Center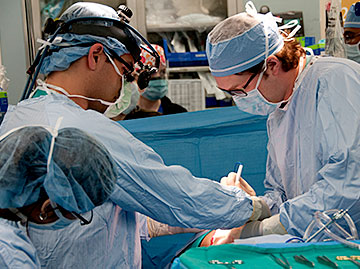 ---
Smith Tower-Texas Medical Center
Physicians & Health Care Team
About
Our UT Physicians colon and rectal specialists comprise the second largest colon and rectal surgery group in the United States. We are a major referral center for colon and rectal cancer, including screening, evaluation, and surgical treatment.
Our surgeons use the latest minimally invasive surgical techniques along with traditional colorectal procedures to diagnose, evaluate, and treat colorectal cancer and other disorders.
We offer a broad range of treatment and procedures for all diseases of the colon, rectum, and anus, including:
Colon and rectal cancer
Diverticulitis
Ulcerative colitis and Crohn's disease
Hemorrhoids
Anal incontinence
Anal fissure and fistula
Rectal prolapse
Self-Parking Garages
Parking for the Smith Tower is available in the building. Access the Garage by Fannin Street, Entrance 15 or the University Boulevard Street entrance. Parking is also available in the Scurlock Tower Garage, with access by the Fannin Street entrance. Scurlock Tower connects to the Smith Tower via the crosswalk on level 2.
Self-Parking Garage fees
Smith or Scurlock Towers costs are 0-2 hours – $10.00, and 2-24 hours – $13.00. You will need to pay as you drive out.
Valet Parking
Valet service is available at the Smith Tower and the Scurlock Tower Garages 5:30am – 7:30pm, 0-2 hours – $10.00, 2 – 24 hours – $13.00.