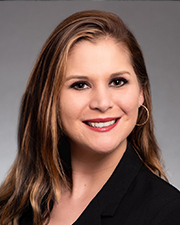 ---
Jessica Treviño Jones, MD

Specialty:
Clinical Interests:

Breast cancer prevention, Care for women at high risk of breast cancer, Breast cancer, Sarcoma cancer
Board Certification:

American Board of Internal Medicine
Internal Medicine
Education/Training
Medical School
University of Texas Health Science Center at San Antonio, 2013
Fellowship
University of Texas School of Medicine San Antonio, 2019
Residency
University of Texas School of Medicine San Antonio, 2016
Internship
University of Texas School of Medicine San Antonio, 2014
---
Jessica Treviño Jones, MD, earned her medical degree and completed her internship, residency, and fellowship in medical oncology and hematology, at the UT Health San Antonio Medical School. In practice since 2013, Dr. Jones integrated research into her patient care with a focus on underserved cancer patients.
Dr. Jones' practice centers on bone and soft tissue cancer, breast cancer, and breast cancer prevention.
In medical school, she was awarded the Presidential Scholar Award and Most Promising Research Award. During her post-doctoral training, she was named Most Compassionate Intern, and later, Most Compassionate Resident. In 2013, she won an honorable mention for her research presentation by the Johns Hopkins University School of Medicine. She was awarded Most Outstanding Intern in 2014, and Most Outstanding Resident in 2017. In 2018, Dr. Jones was awarded the McDonald Award of Excellence in Oncology for her extensive research in breast cancer, research mentoring, and work in quality improvement.
Dr. Jones serves as an assistant professor of oncology at McGovern Medical School at The University of Texas Health Science Center at Houston (UTHealth).
Since joining McGovern Medical School, Dr. Jones has received accolades from her students and her peers. She has been awarded the Dean's Teaching Excellence Award in 2019-2020. She now serves also as core faculty to the internal medicine division for oncology, teaching students and interviewing applicants for residency. In 2020, she opened McGovern Medical School's first Breast Cancer Prevention Clinic, where she helps identify women at risk of breast cancer and performs personalized risk assessments. At this clinic, women are offered additional services they were not offered previously. Dr. Jones actively works toward applying for grants for her research on breast cancer prevention, and sarcoma care.
The mother of three boys, Dr. Jones enjoys reading and writing. When she is not chasing after her kids, she enjoys participating in community outreach that supports education.