UT Physicians Orthopedics at Ironman Sports Medicine Institute – Texas Medical Center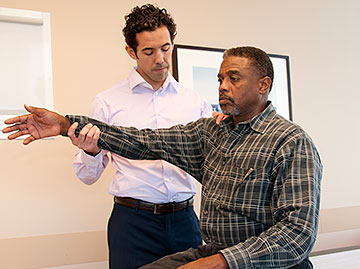 ---
Memorial Hermann Medical Plaza – Texas Medical Center
Physicians & Health Care Team
About
From our facility located in the world-renowned Texas Medical Center, individualized orthopedic care and customized treatment and training programs are delivered by experienced sports medicine-trained orthopedic surgeons, physical therapists, nutritionists, exercise physiologists, biomechanists, strength & conditioning coaches and athletic trainers. This experienced team, including orthopedic doctors, offers a comprehensive suite of services to help athletes perform at their highest level:
Orthopedic injury prevention and evaluation
Orthopedic surgery, including minimally invasive options
Post-injury rehabilitation and physical therapy
Sports concussion management
Strength & conditioning training
Performance testing
Sports nutrition
In addition, advanced diagnostic imaging services and an ambulatory surgery center are conveniently located adjacent to the Institute to ensure a seamless treatment process.
The Memorial Hermann Medical Plaza Building is located at the North end of the Texas Medical Center. The parking garage is easy to get to from any direction with entrances from both Fannin and Main.
Visitor parking is available 24 hours. Valet services are available from 7:00 am to 6:00 pm Monday through Friday except holidays.